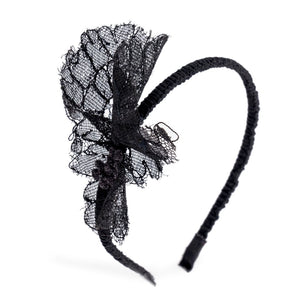 Model: FF825

Fairy Notes:

A thin black satin band wrapped with vintage black French lace and adorned with a free hand-stitched ruffle lace embellishment. Celebrate simplicity.
Made to order: please allow approximately 10 to 14 days for production and local shipment.

Colour: Black 
Material: Vintage Lace
Size: Free
Characteristics: Variations in texture and embellished details are unique features of this handcrafted product. 
Care: Each Fairyband headband comes with a protective dust bag.